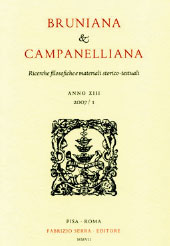 On-line and printed Journal
Contents
Bruniana & Campanelliana
Philosophical Researches and historical-textual Materials

Under the scientific patronage of the Institute for the Lessico Intellettuale Europeo e Storia delle Idee, CNR.
Six-monthly Journal.
International Peer-Reviewed Journal and Indexed and Abstracted in Scopus (Elsevier), Current Contents / Arts & Humanities and in Arts & Humanities Citation Index (Clarivate Analytics).
Fabrizio Serra Editore
casella postale 1, succ. 8
56123 PISA
Tel. +39-055-6530684
Fax +39-055-653021
Journal available on-line by publisher.

Author Guidelines
Editor
Eugenio Canone
Scientific Committee
Michael J.B. Allen, UCLA, Los Angeles; A. Enzo Baldini, Università degli Studi, Torino; Massimo L. Bianchi, 'Sapienza' Università di Roma; Paul R. Blum, Loyola College, Baltimore; Lina Bolzoni, Scuola Normale Superiore, Pisa; Eugenio Canone, Lessico Intellettuale Europeo, Roma; Jean-Louis Fournel, Université Paris 8; Hilary Gatti, 'Sapienza' Università di Roma; Guido Giglioni, Università di Macerata; Anthony Grafton, Princeton University; Miguel A. Granada, Universidad de Barcelona; Tullio Gregory, 'Sapienza' Università di Roma; Eckhard Kessler, Munchen; Jill Kraye, The Warburg Institute, London; Michel-Pierre Lerner, CNRS, Paris; Armando Maggi, University of Chicago; John Monfasani, State University of New York, at Albany; Gianni Paganini, Università del Piemonte Orientale, Vercelli; Vittoria Perrone Campagni, Università degli Studi, Firenze; Saverio Ricci, Università della Tuscia, Viterbo; Laura Salvetti Firpo, Torino; Leen Spruit, 'Sapienza' Università' di Roma
Editorial Board
Manuel Bertolini, Candida Carella, Jean-Paul De Lucca, Delfina Giovannozzi, Simone Guidi, Manlio Perugini, Chiara Petrolini, Michaela Valente, Dagmar von Wille
Editorial Staff
Annarita Liburdi
Collaborators
Simonetta Adorni-Braccesi, Laura Balbiani, Lorenzo Bianchi, Maria Conforti, Valerio Del Nero, Stefano Gattei, Luigi Guerrini, Giuseppe Landolfi Petrone, Giacomo Moro, Margherita Palumbo, Sandra Plastina, Tiziana Provvidera, Ada Russo, Andrea Suggi